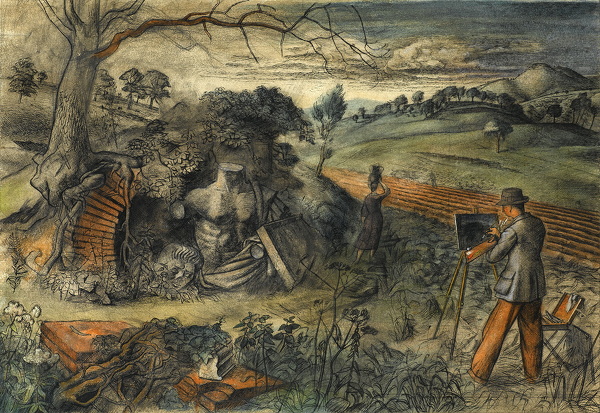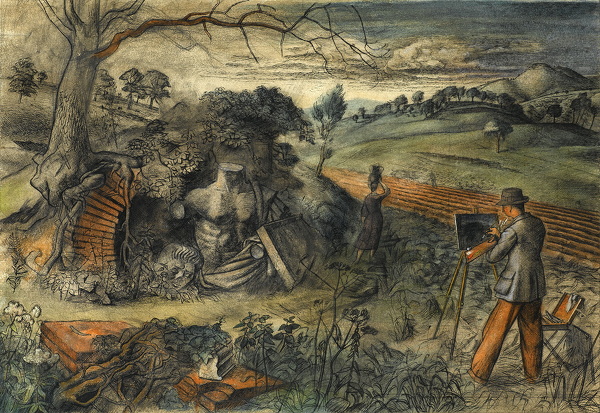 Hover over the painting to magnify (there may be an initial delay while the magnified image is loaded)
Alan Sorrell (1904-1974):
The Artist in the Campagna, c.1931
Framed (ref: 3784)
Pencil, ink and watercolour on paper
15 1/2 x 22 1/2 in. (sheet size) (39.5 x 57 cm)
See all works by Alan Sorrell ink pencil watercolour artists at work 1.PORTRAIT OF AN ARTIST
Provenance: The artist's son, Richard Sorrell; private collection.
Literature: Sacha Llewellyn & Richard Sorrell (ed), Alan Sorrell; the Life and Works of an English Neo-Romantic Artist, (Bristol: Sansom & Co.) 2013.
Llewellyn, Sacha, and Paul Liss. Portrait of an Artist. Liss Llewellyn, 2021, p.368.
An early masterpiece that shows the artist standing between the invented and observed worlds. The small mound composed of collapsing classical remains is a recurring theme in Sorrell's work. the distant hill on the right is taken from a direct drawing of Lake Albano and Monte Cavo to the south of Rome.