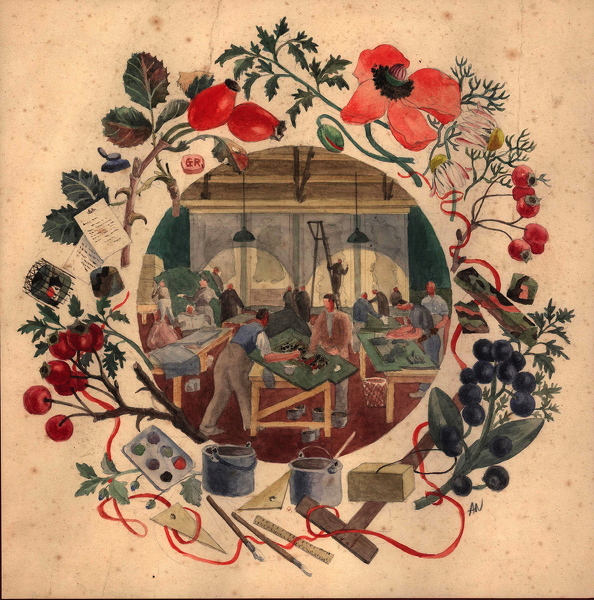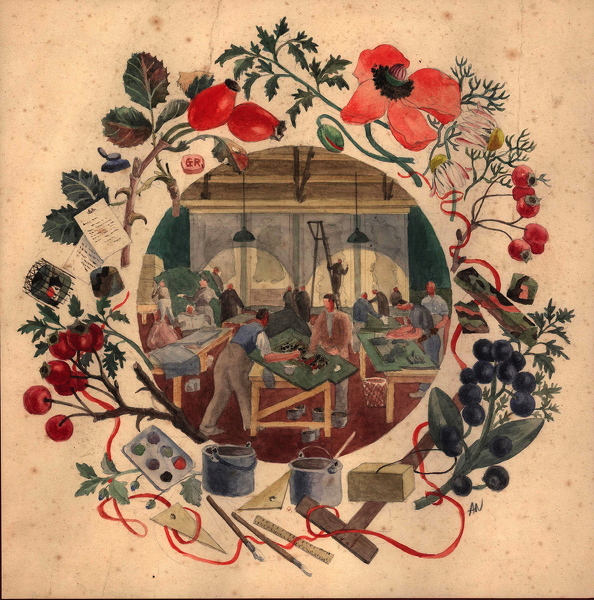 Hover over the painting to magnify (there may be an initial delay while the magnified image is loaded)
Anne Newland (1913-1997):
Camouflage workshop, circa 1940
Framed (ref: 4949)

Signed with initials
Watercolor on paper, 9 1/4 x 9 1/4 in. (23.5 x 23.5 cm.), 12 7/8 in. (32.5 x 32.5 cm. framed)
See all works by Anne Newland watercolour World War II Paintings by British Artists
Exhibited: WW2 - War Pictures by British Artists, Morley College London, 28 October -23 November 2016, cat 94.
Literature: Camouflage and Art: Design for Deception in World War II by Henrietta Goodden
WW2 - War Pictures by British Artists, Edited by Sacha Llewellyn & Paul Liss, July 2016, cat 94, page 139.
In letter dated March 1940, Newland , having interupting her Rome Scholarship to return to England, wrote to to Evyln Shaw, (Secretary to The British School at Rome)
Dear Mr Shaw
I have been meaning to write to you for some time to say that I
eventually got a job here at the Civil Defence Camouflage
Establishment and am now finding the work of everything most
interesting and very glad I accepted it. ….
I am so awfully pleased to have this job and to be able to pull my
weight in some small way,…
March 17th and March 30th, 1940, The Archives of The British School at Rome
This is possibly the design for a Christmas or other type of Greetings card produced by the section of the War Office that made accurate-to-scale briefing models. The staff was civilian, hence no uniforms, and employed artists, theatrical set designers, architects and who were used to making models or painting in trompe l'oeuil, and who could also therefore design camouflage schemes to make factories look like countryside or to break up the outlines and the 'blockiness' of buildings so that they were not recognizable from the air.
The department was based in Leamington Spa and was responsible for two roles: devising camouflage schemes for building complexes in the UK that needed to be protected, so far as possible, from aerial observation by German reconnaissance aircraft, and producing scale models of sites on mainland Europe that British forces were to attack either by aerial bombing or in Commando raids or for D-Day. They prepared these models from aerial reconnaissance photos and with the use of pre-war maps of the area and any photographs - holiday snaps of Dieppe in 1937, or the docks at St. Nazaire - if any such references could be found. It was always useful to brief the officers leading an attack on a very focussed target - the Wurzburg Radar installation on the French coast that was raided by Commandos (OPERATION BITING - THE BRUNEVAL RAID), or the Mohne, Eder and Sorpe Dams raided by 617 Squadron - using models rather than maps or aerial photos. Such models give an immediacy and a much more memorable impression of the terrain of the operation that is difficult to visualise from two dimensional representations.
We are grateful to Andrew Cormack, FSA, FRHistS for assistance.