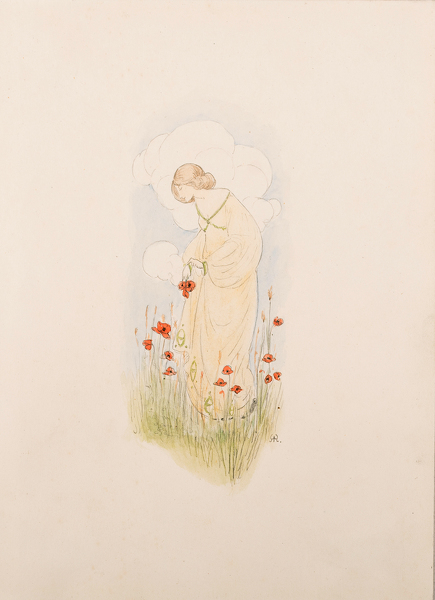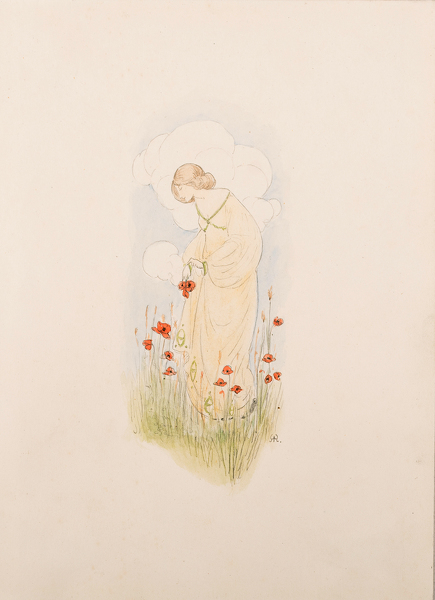 Hover over the painting to magnify (there may be an initial delay while the magnified image is loaded)
Winifred Knights (1899-1947):
Illustration of female figure, picking flowers, c. 1914
Framed (ref: 8851)
Signed with monogram
Pencil, ink and watercolour
9 3/4 x 7 in. (24.7 x 17.8 cm)
See all works by Winifred Knights ink pencil watercolour flowers illustration women
Provenance: Private collection.
At the start of her art training Knights considered a career as an illustrator. Presenting herself as the central protagonist, and selecting models from her inner circle, she was greatly drawn to themes showing female independence, strength and courage, such as Rossetti's Goblin Market. The conflict between female self-empowerment and subjugation was a recurrent theme, explored through women's relationship to the natural world, to working communities, to marriage, motherhood and death.
Winifred Knights, 1916
As a Slade student, Knights cultivated a dress style based on purity and simplicity, in hand-spun and hand-woven cloth, combining elements drawn from Renaissance painting and "aesthetic dress" to create a compelling statement of feminine artistic identity. In Italy, she adopted a version of Italian peasant costume, subsequently retained all her life, consisting of ankle-length skirts of plain or checked cloth, coral necklaces and a broad-brimmed hat or headscarf.