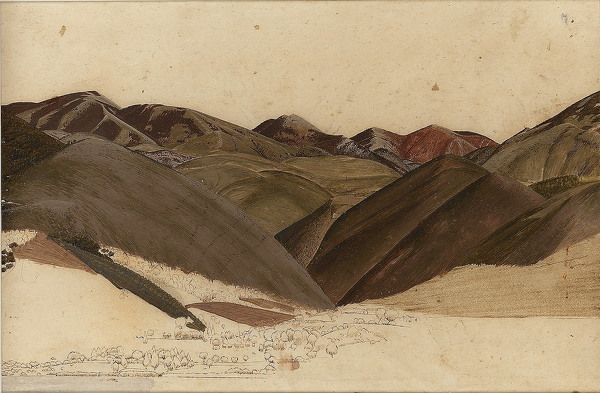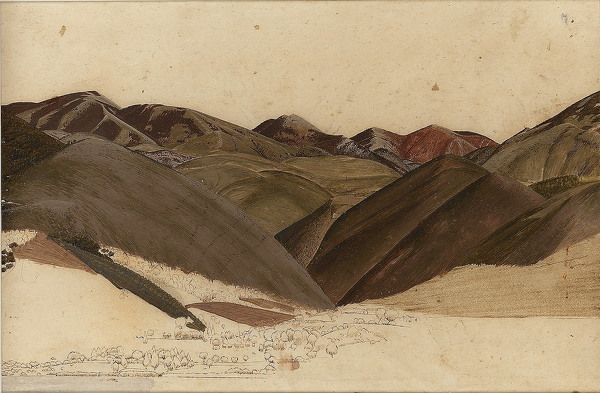 Hover over the painting to magnify (there may be an initial delay while the magnified image is loaded)
Winifred Knights (1899-1947):
Landscape, Piediluco, 1924
Framed (ref: 82)

Brown ink and wash on tracing paper, squared, laid on board
5 3/4 x 10 3/4 in. (14.5 x 25.7 cm., mount opening)
See all works by Winifred Knights ink panel landscape 2.Knights Monnington Italy Knights at Dulwich
Provenance: The Artist's Studio
Exhibited: The Fine Art Society, 1995 (9e)

Although Winifred Knights' Rome Scholarship came to an end in 1923, she continued to live and work at the British School at Rome during 1924-5, where she married her fellow student Thomas Monnington in April 1924. These studies, undertaken whilst on her honeymoon at Lake Piedeluca, were later used as the background of Knights' epic Santissima Trinita, 1924-30.

Knights made extensive landscape studies during her stay in Italy (see Italian Landscape, 1920, Tate Gallery NO3683), most frequently of the countryside around Lazio, Umbria and the Abruzzi. She often worked in triplicate, creating a drawing, then an outline on tracing paper and lastly a colour study. This colour study is sold with a brown ink outline drawing of the same subject.