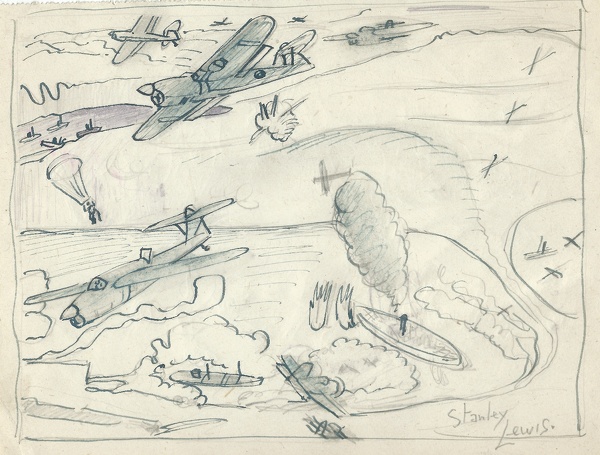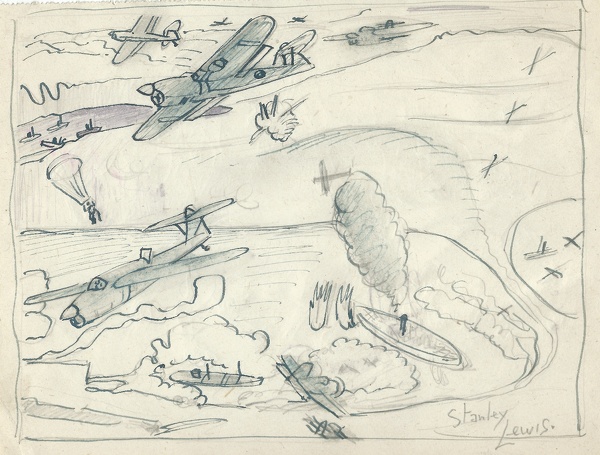 Hover over the painting to magnify (there may be an initial delay while the magnified image is loaded)
Stanley Lewis (1905 - 2009):
Study for The Attack on the Tirpitz by the Fleet Air Arm, 1944
Framed (ref: 7274)
Signed, pen and ink and wash,
6 3/4 x 8 1/4 in. (17 x 21 cm)
See all works by Stanley Lewis ink pen and ink maritime transport war World War II Paintings by British Artists
Provenance: The Artist's Family
Exhibited: WW2 - War Pictures by British Artists, Morley College London, 28 October -23 November 2016, cat 13.
Literature: The Unknown Artist: Stanley Lewis and his contemporaries, Cecil Higgins Art Gallery & Bedford Museum, 12th June - 5th September 2010. p113.
WW2 -
War Pictures by British Artists
, Edited by Sacha Llewellyn & Paul Liss, July 2016, cat 13, page 50.
In a very few cases the WAAC issued contracts to record crucial but otherwise undocumented military events that the artist who received the contracts had not actually seen for themselves and for which they relied instead on photographs and eyewitness accounts. The resulting large oil paintings included reconstructions of such events as an attack on the German battleship Tirpitz by British midget submarines in 1943, portrayed by Charles Pears. Stanley Lewis was also asked, by Lieutenant Commander Hollis, to recreate the historic event in a painting.
The Attack on the Tirpitz, Alten Fiord , April 3rd 1944'After seeing my Searchlight picture Lieutenant Commander Hollins of the Fleet Air Arm, Yeovilton persuaded the Colonel to allow me to go to Yeovilton to paint an historic picture for him. "We want a picture of our attack on the German Tirpitz in Alten Fiord. We have got it all laid on for you. Come with me". And he led me through the camp to a runway where a small American communication plane was waiting. There was a pilot and a sailor standing there and they saluted the Commander. The Commander gave orders and I was flown to an aerodrome somewhere on the coast and I was taken to interview a certain Captain Evans, who had written up the official history of the Tirpitz attack. In his office there were about one hundred small photographs taken by planes that had passed over the Fiord. Only about six were of use to me in identifying the Tirpitz in the Fiord, the rest of the photographs were cloud and smoke. He read out most of his reports enabling me to make notes. Then he and one of his staff bought a large map of the Fiord and I made notes and sketches. Later I returned to Yeovilton and reported to Commander Hollins. He said "as regards the bombers and fighter we have models of those", and then he suggested a full size bomber would land for me to study. I then went to an art shop in Yeovil and bought a canvas, paints and brushes with my own money - I was then allocated a room where I could work on the painting.' 'I had a model of the Tirpitz sent down to me from London and did my preliminary studies of it from the top of a ladder as the Barracuda bombers would have seen it when they attacked. Anyway, one day, Commander Hollins brought Sir Arthur 'Bomber' Harris to see progress on the work. I couldn't believe it was him, and he decided to sit on a stool close by, and lifted his coat tails to sit down, but my palette and paints were on it! I just managed to whip it away in time, or he'd have sat on the lot and got paint all over his backside. Never mind the sinking of the Tirpitz... I'd have sunk if that had happened!!'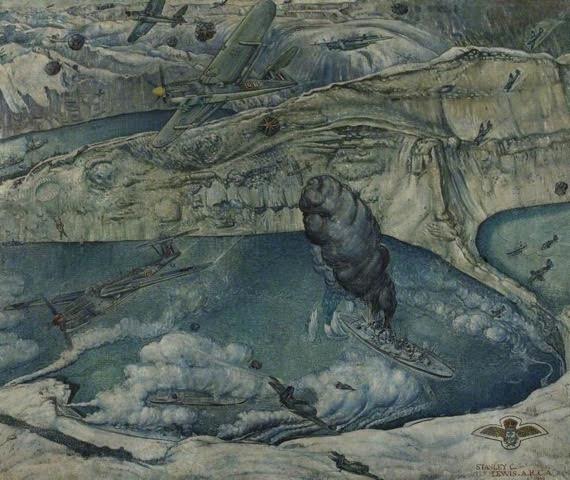 Stanley Lewis, Fleet Air Arm Attack on the 'Tirpitz'