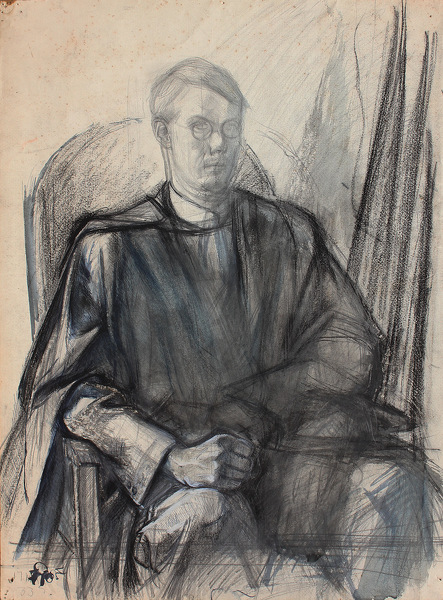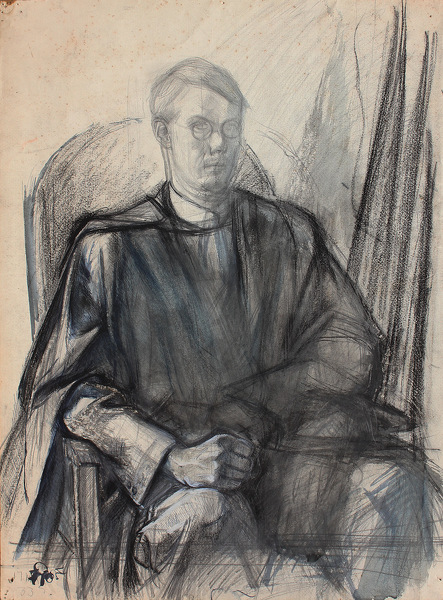 Hover over the painting to magnify (there may be an initial delay while the magnified image is loaded)
Alan Sorrell (1904-1974):
Self Portrait in Graduation Gown, circa 1927
Framed (ref: 6202)

Pencil, black chalk and gouache on paper,
14 7/8 x 11 in. 538 x 28 cm)
See all works by Alan Sorrell chalk gouache pencil men portraits Golden Generation RCA Seventy-seven pictures by Alan Sorrell
Provenance: The Artist's Family
The self portrait shows Sorrell in his graduation gowns. Alan Sorrell (1904-1974) attended the Royal College of Art in the mid-1920s during a period which saw the emergence of talents such as Edward Bawden, Eric Ravilious, John Piper, Henry Moore and Barnett Freedman. Although Sorrell's work has been less well documented his talent was comparable to that of artists more usually associated with the RCA's formidable reputation during the interwar years. Almost no work survives from Sorrell's period as an RCA student other than the preparatory drawings with which he competed for his Rome Scholarship which he won in 1928.