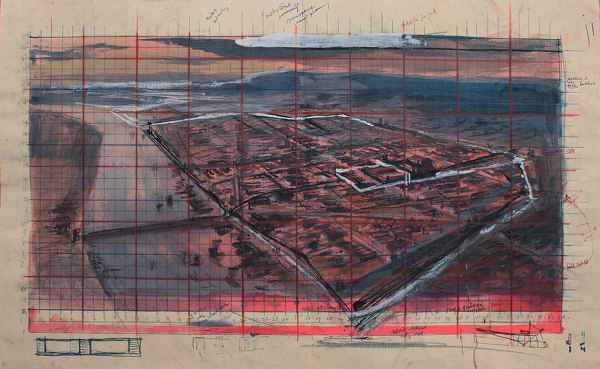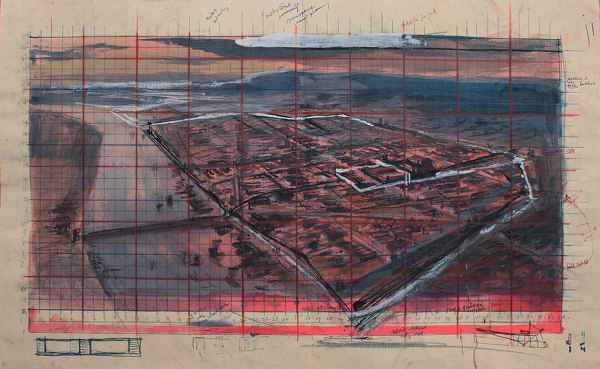 Hover over the painting to magnify (there may be an initial delay while the magnified image is loaded)
Alan Sorrell (1904-1974):
Reconstruction drawing: Roman Londinium
Mounted (ref: 5800)

Pencil, gouache and ink on paper, squared with notations,
31.5 x 51.5 cm ( 12 3/8 x 20 1/4 in.)
See all works by Alan Sorrell gouache ink pencil landscape
Provenance: The artist's son, Richard Sorrell
​Exhibited
: Sir John Soane's Museum, 25 October 2013 - 25 January 2014,
Alan Sorrell: A Life Reconstructed.
Literature:
Sacha Llewellyn & Richard Sorrell (ed), Alan Sorrell; the Life and Works of an English Neo-Romantic Artist, (Bristol: Sansom & Co.) 2013
, pp 158-199.
Joining the RAF in WW2 had a noticeable effect on Sorrell's art - the broad titled viewpoints that resulted from hours of flying would later inform his reconstruction drawings which were often constructed around a birds-eye view.
Roman London was the first sketch for a drawing of Roman London from the south-east. The great Basilica (between modern Cornhill- Leadenhall Street and Fenchurch Street) is clearly visible. The city wall is roughly traced in white, and the notation shows that Sorrell's strong argument for a river wall (as a vital defensive measure) is dismissed. Remarkably, soon after Sorrell's death in 1974 massive remains of a Roman riverside wall were discovered at Blackfriars.
Alan Sorrell made a considerable reputation for his remarkable 'reconstruction' drawings of ancient sites, shown as they appeared in their heyday. The drawings and paintings combine his keen interest in history, and collaboration with archaeological and historical experts, with a vivid artistic imagination and sense of spatial awareness.
This work brought him into close working relationships with many of the foremost archaeologists of his day, including Sir Cyril and Aileen Fox, Sir Mortimer Wheeler, Leonard Woolley, Kathleen Kenyon, Ian Richmond, Richard Atkinson, Stuart Piggott, V E Nash-Williams, Stuart Rigold and many others.
As was his practice with mural paintings, Sorrell made sketches and preparatory drawings, which led to the finished reconstruction drawings. These works were commissioned by the Ministry of Works (English, Welsh and Scottish Heritage), The
Illustrated London News, television companies and others.