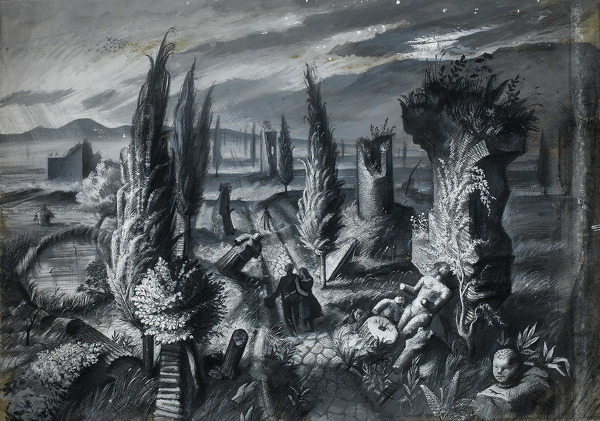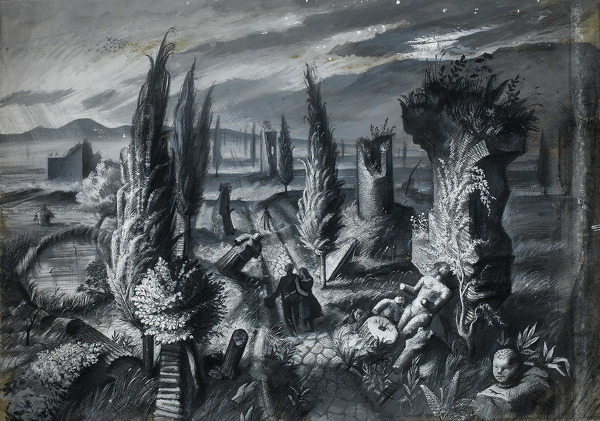 Hover over the painting to magnify (there may be an initial delay while the magnified image is loaded)
Alan Sorrell (1904-1974):
The Appian Way, 1932
Mounted (ref: 3777)
Signed and dated

Pencil, ink and gouache on paper, 51.5 x 65.5 cm (20 1/4 x 25 3/4 in.)
See all works by Alan Sorrell gouache ink pencil allegory landscape
Provenance: The artist's son, Richard Sorrell
​Exhibited
: Sir John Soane's Museum, 25 October 2013 - 25 January 2014,
Alan Sorrell: A Life Reconstructed.
Literature:
Sacha Llewellyn & Richard Sorrell (ed), Alan Sorrell; the Life and Works of an English Neo-Romantic Artist, (Bristol: Sansom & Co.) 2013
, p 58-59.
A memory of the ancient Via Appia that leads out of Rome, bordered by classical Roman tombs and cypresses - as imagined in moonlight. This is the same road by which Benvenuto Cellini made his escape.