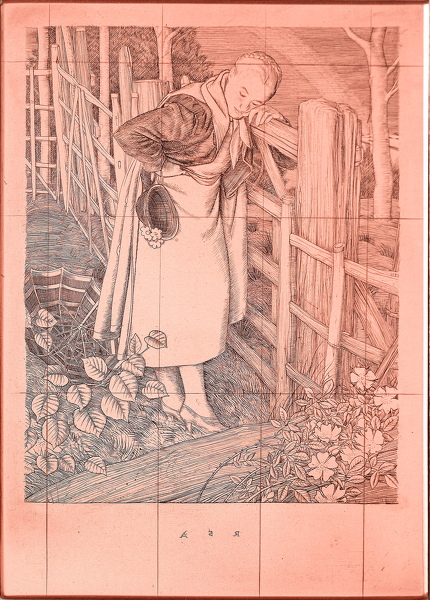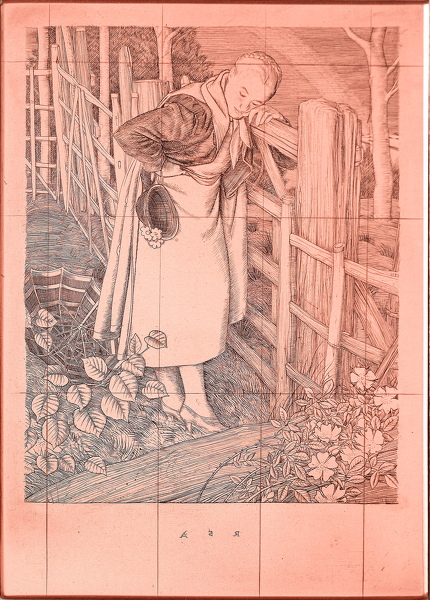 Hover over the painting to magnify (there may be an initial delay while the magnified image is loaded)
Robert Austin (1895-1973):
A Girl at a Gate (1938)
Passe-partout (ref: 2979)
Line engraving, copper plate: 5 3/4 x 4 1/8 in. (14.6 x 10.5 cm.), (cancelled)

See all works by Robert Austin engraving plate allegory design leisure TOP 100
Provenance: the artist's family
Literature: Campbell Dodgson, Robert Austin, exh. cat.,Twenty-One Gallery, London, 1930; Gordon Cooke, Drawings and Prints by Robert Austin, exh. cat.,The Fine Art Society, London, 2001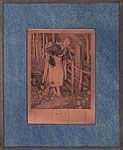 This large collection represents the vast majority of surviving plates by Austin and includes examples of all aspects of the artist's oeuvre, from his first engraving (The Bridge 1913) to his last (Frost in May 1971). Works from Austin's mid- and late career, such as Girl by a Gate 1938 (illustrated following, with detail), and Empty Church, Concarneau 1949 (opposite), demonstrate that he was still at the height of his powers long after his period of greatest acclaim during the etching boom of the 1920s, which ended abruptly with the Wall Street Crash.
The collection also includes examples of the line engravings of which Austin was one of the greatest exponents of his century, including The Flight Into Egypt 1925 from his period as Rome Scholar (1922–5), when he first began to use line engraving, and Bellringer's Wife 1934 (following). Campbell Dodgson, Keeper of Prints and Drawings at the British Museum, who compiled the standard reference work on Austin, compared him to Albrecht Dürer, noting that Austin had 'more than a touch of that master in him' (Dodgson, Robert Austin, exh. cat.,Twenty-One Gallery, London, 1930).
The plates have been restored and posthumously printed by David Maes.
A full list of plates in the collection is available on request. The collection is for sale to a public institution only.
We are grateful to Rachel and Clare Austin, Gordon Cooke and David Maes for assistance.
See all paintings by Robert Austin