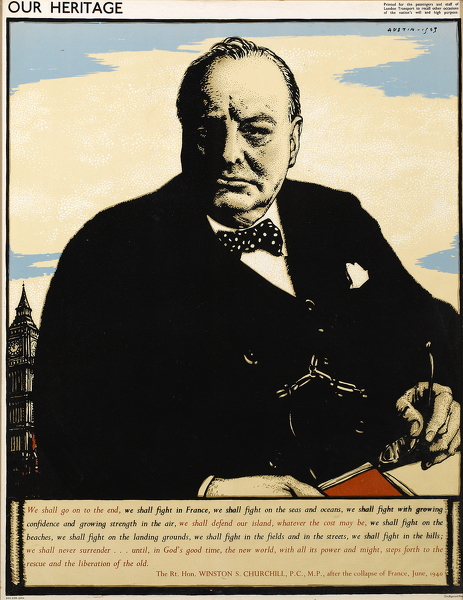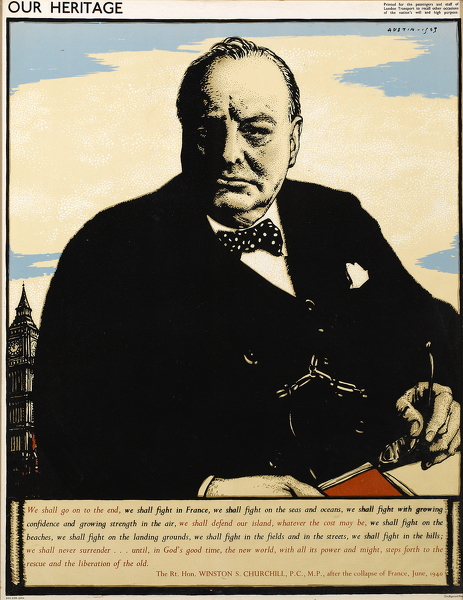 Hover over the painting to magnify (there may be an initial delay while the magnified image is loaded)
Robert Austin (1895-1973):
Our Heritage:Winston Churchill, 1943
Unmounted (ref: 2606)

Signed and dated in the plate
Lithograph, 25 1/4 x 20 in. (64. 2 x 50.8 cm)
See all works by Robert Austin lithograph print portraits war WW2 bis
Exhibited: WW2 - War Pictures by British Artists, Morley College London, 28 October -23 November 2016, cat 123.
Literature: WW2 - War Pictures by British Artists, Edited by Sacha Llewellyn & Paul Liss, July 2016, cat 123, page 164.
Inscribed 'printed for the passengers and staff of London Transport to recall other occasions of the Nation's will and high purpose'
Printed by the Baynard Press
Provenance:Artist's daughter.

This rare lithographic proof comes directly from the artist's family. The London Transport Museum has the same poster in its collection, together with versions of the design in a number of earlier states.

The Underground Group (later London Transport) produced a wide variety of posters during the First and Second World Wars.There was, however, a marked difference between the propaganda element of the posters in both wars: the posters published in the GreatWar presented the conflict as an idealised struggle and urged men to enlist, whereas the posters of the Second World War stressed the individual's role in helping the war effort at home and also aspired to lift the nation's spirits.

Many London Transport posters were issued as a series, for maximum impact. Robert Sargent Austin was commissioned to produce the Our Heritage Series, depicting heroic British Leaders, such as Nelson,Drake, Pitt and finally Churchill.The aim of these posters was to boost the morale within the travelling public by reminding them what the nation was fighting for.

The anecdote about Churchill that during the war he responded to a request to cut funding to the art with the rebuff, 'then what are we fighting for' is unsubstantiated.
IN 1943 Retreating German troops deliberately destroyed most of the collection of the Museo Civico Filangieri in Naples.
Jackson Pollock's first solo exhibition opened in the Daylight Gallery of Peggy Guggenheim's The Art of This Century gallery on Manhattan.
ART WORKS CREATED IN 1943
Salvador Dalí – Geopoliticus Child Watching the Birth of the New Man
M. C. Escher – Reptiles
Dame Laura Knight – Ruby Loftus Screwing a Breech Ring
L. S. Lowry - Britain at Play
Piet Mondrian – Broadway Boogie-Woogie
Walter Thomas Monnington – Clouds and Spitfires
Paul Nash – Landscape of the Vernal Equinox
Felix Nussbaum – Self-portrait with Jewish identity card
Mervyn Peake - The Evolution of the Cathode Ray (Radiolocation) Tube
Jackson Pollock – Mural (for Peggy Guggenheim)
Norman Rockwell – Four Freedoms (paintings)
Edward Wadsworth – Top of the World