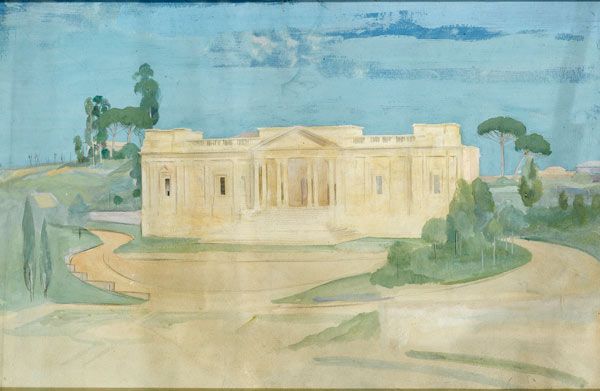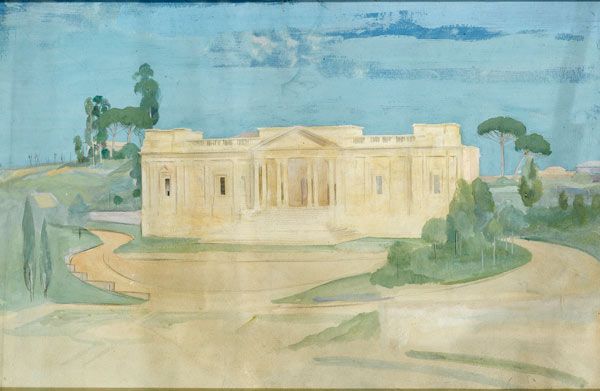 Hover over the painting to magnify (there may be an initial delay while the magnified image is loaded)
Alfred Kingsley Lawrence (1893-1975):
The British School at Rome, circa 1923
Framed (ref: 5483)
Gouache over pencil
13 1/2 x 20 1/2 in. (34.3 x 52.1 cm)
See all works by Alfred Kingsley Lawrence gouache pencil Garden houses 1.BSR
Provenance: The Artist's Estate; Private collection
A K Lawrence was the Rome Scholar in Decorative Painting for 1923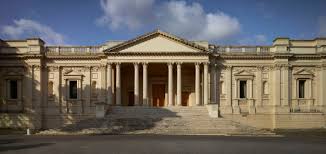 The British School at Rome (BSR) was established in 1901 and granted a UK Royal Charter in 1912. Its mission is "to promote knowledge of and deep engagement with all aspects of the art, history and culture of Italy by scholars and fine artists from Britain and the Commonwealth, and to foster international and interdisciplinary exchange."
In 1911, the British Pavilion for the International Exhibition in Rome, celebrating 50 years since Italian reunification, was granted in perpetuity to the British nation – on condition that it be used exclusively as a research centre for archaeology, history and the fine arts. In 1916, after significant adaptation by its architect, Edwin Lutyens, the BSR moved into its current home in what is now via Antonio Gramsci, in the Valle Giulia.
The BSR is immediately adjacent to the Villa Borghese gardens and the Galleria Nazionale d'Arte Moderna.