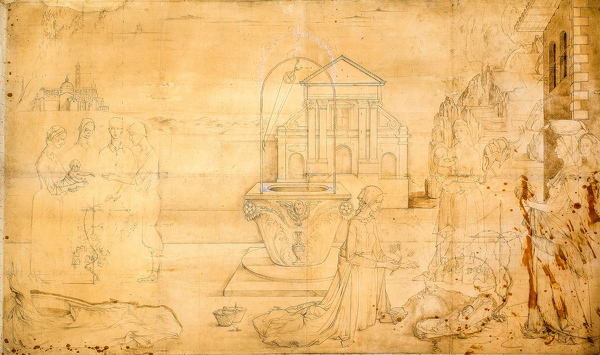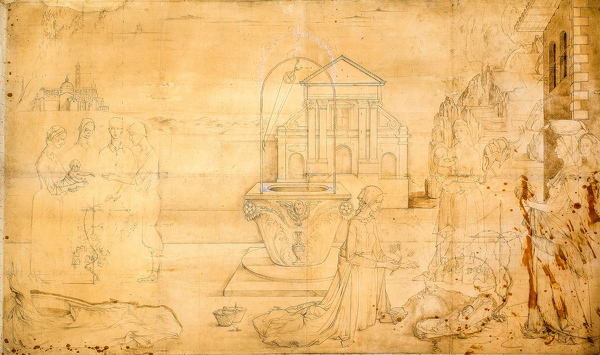 Hover over the painting to magnify (there may be an initial delay while the magnified image is loaded)
Anne Newland (1913-1997):
Study for 'The Legend of Ceres' , c. 1938-39
Framed (ref: 5057)

Pencil on tracing paper,
45 1/4 x 75 in. (114.5 x 191 cm.)
See all works by Anne Newland pencil big pictures murals 1.Master Drawings Modern British Art at Mercers' Hall RELIGION WOMEN
Provenance: Acquired directly from the artist by Laurie Stewar
This remarkable cartoon was Newland's principal work of her Scholarship at the British School at Rome.

Ann Newland won an Abbey Major (a one year Scholarship in Painting to the British School at Rome) in 1938. The following year she was awarded a full Rome Scholarship (two further years in Rome), interupted by the war, (during which time she worked for the Civil Defence Camouflage Establishment).
Recommending Newland for the Rome Scholarship Ernest Jackson wrote:
I think Miss Newland to be an extremely talented artist. There is no
doubt in my mind as to her suitability for the scholarship. She is a
natural decorator and has always since her advent to the Byam Shaw
School worked in the direction of decoration. Personally she is very
reserved but mixes well with other students in all their social
activities. She is a most industrious worker . She has here been a
loyal student and has been a member of the school committee by popular
election and has done well.
Newland commenced work on this large Cartoon for a central panel of triptych during her first year at The British School at Rome and continued to work upon in her second year. In correspondence with Evelyn Shaw she described it as the central panel of a triptych which she did not intended to complete as a painting and for which she equally never intended to produced a design for the side panels. Newland requested the return of this 'precious' cartoon from Rome after the War interrupted her scholarship, giving specific instructions as to how it was to be rolled and transported, (letter to Evelyn Shaw 17.4.46).

The subject matter is clearly allegorical . Ceres, according to Ancient Roman myth, was the goddess of agriculture, grain crops, fertility and motherly relationships. Newland returned to same composition at the end of the decade - a related pencil drawing entitled Composition, The Legend of Ceres is dated 1949 - and in 1950 Newland exhibit a variation on the theme, entitled Three Maries, which was loosely inspired by this earlier Decorative composition.