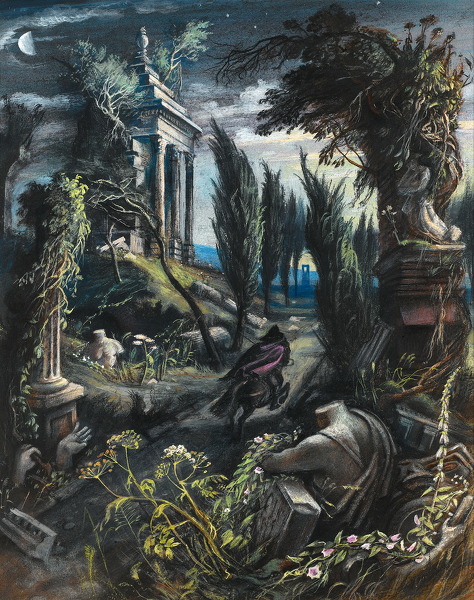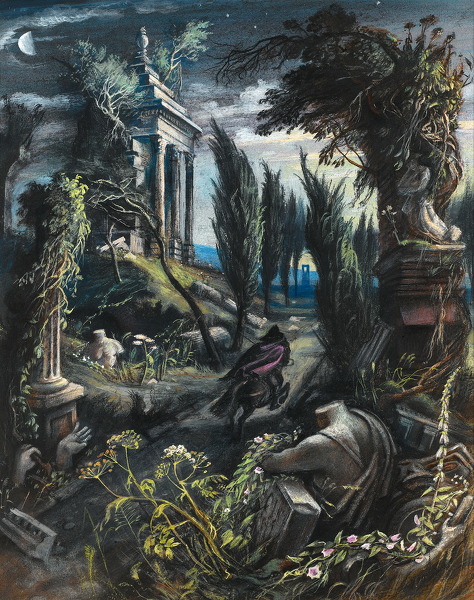 Hover over the painting to magnify (there may be an initial delay while the magnified image is loaded)
Alan Sorrell (1904-1974):
Benvenuto Cellini Escaping from Rome, 1949
Mounted (ref: 3709)

Signed and dated 1949
Pencil and gouache on paper
42.5 x 34 cm (16 3/4 x 13 3/8 in.)
See all works by Alan Sorrell gouache pencil
Provenance: The artist's son, Richard Sorrell
​Exhibited
: Sir John Soane's Museum, 25 October 2013 - 25 January 2014,
Alan Sorrell: A Life Reconstructed.
Literature:
Sacha Llewellyn & Richard Sorrell (ed), Alan Sorrell; the Life and Works of an English Neo-Romantic Artist, (Bristol: Sansom & Co.) 2013,
p 178.
The Via Appia Antica held a fascination for Sorrell. In this work he recalls the flight of the great Renaissance sculptor, goldsmith and murderer along the ancient road at night.
The moonlight plays on ruined classical tombs overgrown with foxgloves and convolvulus as the cloaked figure disappears south at full gallop.
This picture is one of a number painted of the Via Appia, Richard Sorrell has pointed out that It is intriguing that his father should have obstinately used the 'Chinese Gallop' to suggest speed although he certainly knew that this was an impossible movement.